You've had good Friday, Super Saturday and Happy Easter Sunday! Get ready for Great  Monday!….
All things Destiny coming Monday, 4/2/18. Learn more about the dynamic Destiny Stone, her magical March in Memphis, her mark on the Bluff City as she profoundly and energetically moved the masses, her Nina Now Project and the Black Girl Movement. Ready or not here/hear she comes….. See below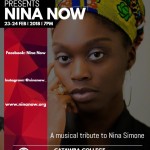 Singer/Songwriter Destiny Stone took Memphis by storm the last week of March with her soulful lyrics, powerhouse vocals, and positive messages. She began her mighty March week at the Girls on Fire Writing Conference, hosted by Love Girls Magazine on the campus of  The University of Memphis. There she shared her journey as a singer/songwriter and inspired  100 young middle and high school girls from the Mid-South to write, learn and express themselves. The 20 year old beauty performed "Power"  as well as a couple of other selections from her must have ,grammy worthy album Journey, which is available on itunes, Spotify, and CDbaby.
Her next phase of inspiration was a visit to Belle Forest Community School, where she facilitated the "Little Women Write Too Workshop". The masses of fourth and fifth graders were moved with her opening selection  "Black Girl". From that point on workshop goers were motivated and catapulted by her lyrics and music. A young Miss Destiny Stone engaged the crowd of about 200 little girls as they sang the lyrics she taught them on the spot. The workshop theme was to "Empower, Encourage and Enlighten" our girls. In addition to those three E's, an energetic Stone entertained and engaged the young workshop participants.
Like "Black Girl", "I'm Gonna Love Myself"  was another selection Destiny sung that inspired self love. The lyrics made reference to Stone comparing herself, in a sense to several popular singers but made it clear she loves herself no matter what. "I know I'm not Beyonce" she sings slightly and smooth over the melodic tune "but that don't mean a thing cause I can make my lemonade out of the songs I sing" she continues.
Then she facilitates the lesson at hand and gets the girls writing. The blue print for song writing activity begins… Little Women Write Too Workshop goers are asked a series of questions to start their writing process. They respond with a multitude of answers.
"Hey young little woman writer, did you know that writing is a very positive way to express yourself and ignite change? Well, answer the following questions and fill in the blanks to start your journey as a songwriter just like Alessia Cara, SZA, Jill Scott, Alicia Keys, India Arie and Destiny Stone" was the query to start the workshop.
As she was busy taking The Bluff City by storm, Speak To Me caught up with the energetic, super talented Destiny Stones as she profoundly and energetically moved the masses, and asked some of the same questions as well as questions about her Nina Now Project and the Black Girl Movement.
STM: What do you aspire to be when you grow up?
Destiny Stone: I aspire to be a touring and performing singer songwriter
STM: Do you prefer, rap, R&B, gospel or pop musician?
Destiny Stone: I prefer R&B and gospel music.
STM: Who is your favorite Artist and why?
Destiny Stone: India Arie is my favorite artist because she does not try to fit into mainstream, she writes her own songs, and she writes music about all types of things…not just love songs.
STM: What is your favorite song and why?
Destiny Stone: My favorite song is "Talk to Her" by India Arie because of the lyrical composition. Also, it's catchy and easy to understand but is still creative.
STM: What do you like more than anything?
Destiny Stone: I like writing music more than anything!
STM: When you write your music, what are you thinking about?
Destiny Stone: I'm thinking about writing a song that captures however I feel at the moment. I am thinking about transferring my emotions into something that people can feel when they listen to my song.
STM: What inspires your writing and you to write music?
Destiny Stone: Different events or emotions inspire me to write. For example, when people were giving Colin Kaepernick so much flack for his silent protest, I wrote a song about it called One Knee. Another time I was inspired is when my professor challenged me to write a song about the beauty and joy of being black in America and that's why I wrote " Black Girl".
STM: Yes! Black Girl! We'll get back to that music that has become a movement later.
STM:How hard is it to manage your music career, college and performances?
Destiny Stone: It's he's challenging at times. I have to prioritize and sometimes say no to my friends. However, having people around who understand the goals I'm trying to reach helps.
STM: What makes a song a song Ms. Stone?
Destiny Stone: The lyrics and melody make a song a song. Whether it's about being happy or sad, it's still a song.
STM: Do you ever get nervous? If so, how do you overcome it?
Destiny Stone: Yes, all the time! But I overcome it by praying before performances and putting that nervous energy into my singing and playing.
STM: Do you ever get discouraged? If so, how do you deal with it?
Destiny Stone: Yes sometimes I get discouraged and feel like the work I do is in vain. But I deal with it by the grace of God. Whenever I get to those low moments or feel discouraged, God always has a way of reminding me that the music I write and share is touching people and that the gift He gave me is not for myself but for His glory and His people.
STM: What are you studying in college?
Destiny Stone: Is it hard? I'm studying Popular Music and Worship Arts and I won't say it's hard because I have a passion for these things. Sometimes it's a lot of work, but the subjects themselves aren't hard for me cause they interest me.
STM: What's your hook/catch phrase/attention getter?
Destiny Stone: Straight to the point. I like to write songs that use metaphors and similes. but not too deep that you don't get the message the first time.
STM: You are definitely God-gifted and God-filled. When did you realize your were more than talented and so unique? I mean what 20 year old studies and revitalizes Nina Simone?
Destiny Stone: Thanks so much. I've been told I'm an old soul.
STM: I see you old school millennial. Please tell me more about your Nina Now Project and what inspired you to do the massive, well needed, project. Also about the Black Girl Movement.
Destiny Stone: Nina Now began as my senior project. Even though I'm a junior, i was able to do my project early to commemorate what would have been her 85th birthday in February 2018. It's about educating people about Nina Simone and sharing her music. I also sing some of my music too. I'm inspired by her boldness during the Civil Rights movement and the range of topics she tackled in her music from love to being misunderstood
Black Girl came about after one of my professors challenged me to write a real good song about being black in America. I was thinking about the little girls I've seen and heard singing along with my other music and I wanted to write a song for them. I also dedicate the song to those young ladies who are in college or own businesses and are coming up with new innovations. The song is also dedicated to older black women who have paved the way and gone before me. I hope this song makes black girls young and old feel glorious.
Interesting. You have mentioned your professors a couple of times. Where do you attend school.
Catawba College in North Carolina.
Now is there a reason why you chose this school.
Yes it is a perfoming arts college that offered my major and offered me the most scholarship money.laughing
STM: Last question: There's another artist with the Name of Destiny Stone. Do you think your styles are similar? What sets you apart from her?
Destiny Stone: I think her main instrument is guitar and think my style is more soulful.
After her visit with Belle Forest scholars, the hardest working young lady in the industry stunned a diverse audience with a live performance on the Thacker Mountain Radio Show, MBP 89.5 in Oxford Mississippi. A couple of days later, Saturday afternoon Ms. Stone moved the crowd at the Book Lovers Appreciation/Life Center Community Fest. This was her last stop in the Mid-South. We look forward to embracing this rising star, that is destined to be great!
Find out more about Nina Now here: https://squareup.com/store/destiny-stone
https://www.salisburypost.com/2018/02/18/2-18-catawba-students-offer-nina-now-feb-23-24/
.