https://store.bookbaby.com/bookshop/book/index.aspx?bookURL=We-Can-All-Decorate-The-Same-Tree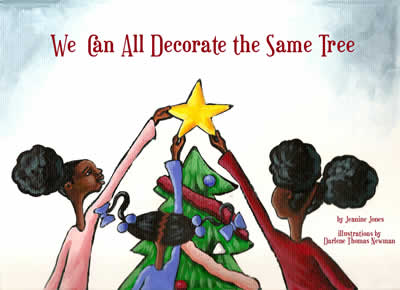 Hard Cover copy for Holiday Sale price of $12. 99 each while quantities last, thru 12/19. Must by two books for sale to apply.
AUTHOR: Jeanine Jones
Reader's Guide and Activities Included
In this wonderful Holiday story, three girls Zanette, Akisha, and Deltina find friendship despite their differences. They learn a valuable lesson about what they can achieve when they work together, and soon realize that they have something beyond the obvious in common.
About the Illustrator
Through lively, stylized human forms and bright, expressive colors, Darlene Thomas Newman uniquely brings words and concepts to life. Darlene has illustrated for the Wall Street Journal and Charleston Magazine. Her work is in numerous personal collections throughout the United States. She is a native Memphian where she resides with her husband.
What Others Are Saying
We Can All Decorate the Same Tree is beautifully written and wonderfully colorful. The message is obvious and even extends beyond the seasonal setting. Jeanine has produced a very good story that children, as well as adults, should love.
~ Ernest A. Donelson, II; Founder & President, Black AIDS Memphis/Minority Health Awareness Initiative
Jeanine Jones has crafted a warm and inviting story about finding and forging a long-lasting friendship. A great holiday story which keeps the reader engrossed and entertained. It is truly an inspirational story for all ages.
~ Inger Upchurch, M.Ed.; Manager of Cossitt and Crenshaw Libraries, Memphis Public and Information Center
The story has a wonderful theme and is sure to be a hit. In a world that so often celebrates the individual and the illusionary power of me over us, this story portrays the real beauty and power of cooperation, of maintaining our personal freedom and identity yet multiplying our strengths and capacity through diversity, of the difference between a singular color and the mosaic of a rainbow. Our world needs more voices like this author's. Jeanine, keep up the great beauty of your voice.
~ Dr. Ric Potts; Director of Secondary Instruction Support MCS
We Can All Decorate the Same Tree: Cross Curricula Lesson Plan
We Can All Decorate the Same Tree Cross Curricula Lesson Plan Book includes a comprehensive engaging lesson plan for the common core standards subjects of Language Arts, Math, Science and Social Studies Fine Arts, Media Concepts and Technology. Lessons are aligned with Common Core State Standards for grades k-12.