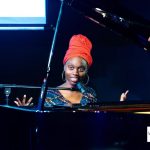 Nina Now audience members were not disappointed as young Destiny Stone embodied the late, great Nina Simone at Theater South, Sunday, July 15 exactly one week ago, in a soft launch reopening of the legendary Precious Cargo, redesigned by its original owner, Cequita Monique. In a red, turban-like head-wrap and beautifully multi-colored blue, red and white maxi-dress adorning her petite frame, Stone captured the ambience, essence, soul and truth of the legendary soul-tress. Skillfully and courageously belting out such powerful tunes as Mississippi Goddamn, Young, Gifted and Black, Four Women, Be My Husband and others in her one woman show, which she produced, directed and starred in.
The first half of Nina Now was all Nina. Video footage of the legendary singer, songwriter, musician and activist enhanced the spectacular show as Stone edu-tained and info-tained the audience with little tidbits and important facts about Ms. Simone, which she learned during her extensive study on the artist for her senior project at Catawba College in North Carolina. That added touch was genius. Had I lived in the early days of Nina Simone's time, I would've believed I was at a Nina Simone concert.
However, the second half of the concert was just as fabulous. The Now, in Nina Now was phenomenal, featuring all original works of Miss Destiny Stone. She wooed the packed house crowd with such tunes as Don't Mind, Really Real, America and other songs from her albums. "I don't mind if you don't like what I say…" are the words she sang in harmony with the keys she so eloquently played on the baby grand that she allowed to accompany her raw, but smooth voice for the opening of the last half of the show. Nina had left the room and we were definitely in the now. Her voice, her presence and the music she played took the audience out of Mid-Town's Theater South and into Destiny's world. In the atmosphere we felt Nina, we felt Destiny. One audience member commented on how Destiny spoke from a place of love, song from a place of love in her music as to unite and not divide. Standing on the Shoulders was said to be a Grammy winner from one concert-goer.
An encore performance with Color Blind as the people's choice sealed the night with Destiny. During the chit-chat, talk-back segment a new fan revealed that she actually enjoyed Destiny's music more than the Nina segment. Go figure. Some asked how they could invest in and support Stone in her musical efforts and her activism through her music. She was graceful. She was real. She was transparent and simply encouraged the audience to buy her CDs. The performance was filled with good vibes and great work presented by a quality artist. She a professional entertainer and creative artist bound for super star status in her own right; brave to attempt such artist, let alone exceed the expectation of the crowd.
​
With the success of the one-woman show, I am looking forward to Nina Now and the "young, gifted and black", Destiny Stone going global.
For more about Destiny Stone visit:
Destinystonemusic.com
ninanow.org